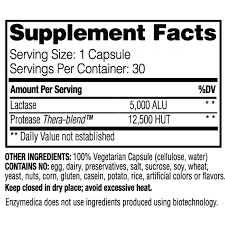 Dairy Assist
Helps With: Gut Health, Digestion, Food Intolerances, Allergies
Because everyone should be able to enjoy cheese, ice cream, yogurt and other dairy!
Our dual-action formula is packed with the enzymes lactase and protease to help break down problem-causing lactose and casein, providing support for dairy intolerances.* Experiencing discomfort and bloating after eating dairy shouldn't hold you back. With the right help, you can go back to enjoying the dairy products you love.
Support for dairy intolerance
Promotes both lactose and casein digestion
Breaks down dairy sugar and dairy protein
Warnings
Consult with a physician prior to use if you are pregnant, nursing, taking medications or have a medical condition.
Directions
Take 1 capsule with each meal containing dairy. More may be taken as needed. For a more advanced formula, try Lacto™.