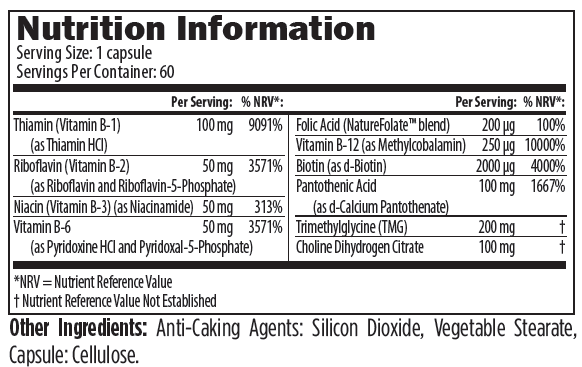 B-Supreme
Supplement Type: Vitamin B
Helps With: Immune System Support, Fatigue, Stress
Size:
60 Vegetarian Capsules
Ingredient:
B9 Folate (5-Methyltetrahydrofolate (5-MTHF)
B-Supreme is a powerful combination of B vitamins supplied mostly in their coenzymated forms, so that the body does not have to phosphorylate them to be used in biochemical reactions.
This formula also includes the patented folate derivative Quatrefolic®, which is an innovative form of folate that has demonstrated high bioavailability, solubility, and long-lasting stability. Trimethylglycine (TMG) and choline are also included to support methylation.
Warning
If pregnant, breastfeeding, taking any kind of medication, or have a medical condition, consult a healthcare practitioner before using this product.
Do not exceed the recommended dose, unless advised by your healthcare practitioner. 
Not suitable for children. 
Directions
Take 1 capsule per day or as directed by your health-care practitioner.