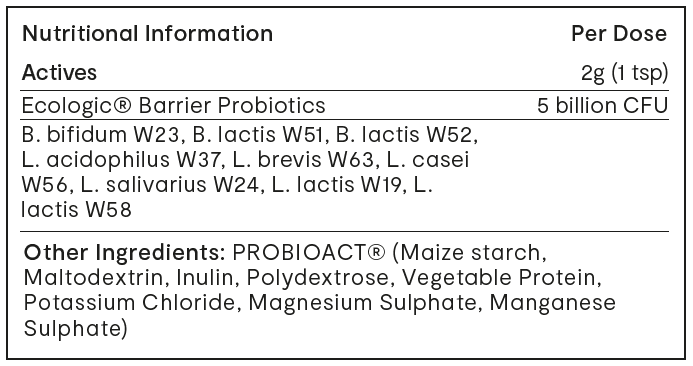 Bio.Me Barrier Powder
Supplement Type: Probiotic
Helps With: Gut Health, Inflammation, Leaky Gut, Immune System Support, Food Intolerances
A clinically-researched multi-strain live bacteria probiotic for the gut-brain microbiome and intestinal barrier health.
This product helps to limit the movement of toxins from the gut into the bloodstream by tightening the junctions of the gut walls, which also improves the first line of defence of the immune system. 
Additionally, it breaks down endotoxins, which are inflammatory toxins made when certain gut bacteria disintegrate.  High levels in the bloodstream have been linked to mental health conditions including depression, dementia and schizophrenia.
Bio.Me Barrier has been shown to have a positive effect on depression and mental health.
Contains PROBIOACT® Technology.
Warnings
If pregnant, breastfeeding, taking any kind of medication, or have a medical condition, consult a healthcare practitioner before using this product.
Directions

Mix 2g (1 tsp) daily into 100ml of water.  Leave for 1 minute.  Stir and take on an empty stomach.
 When taking antibiotics, wait 2-3 hours before taking Bio. Me Barrier.
Do not exceed the recommended dose, unless advised by your healthcare professional.