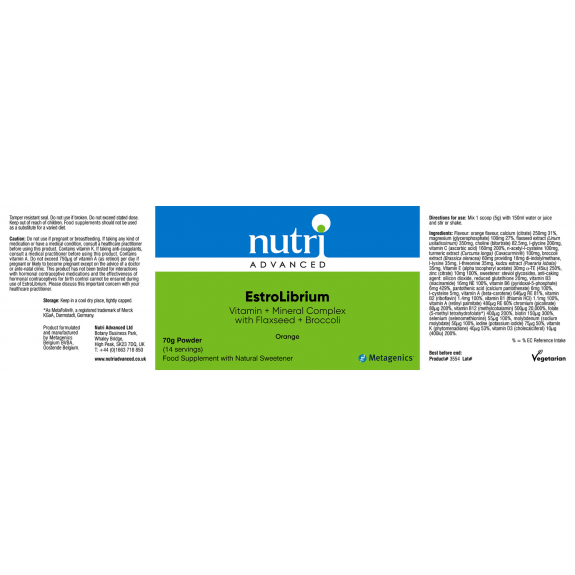 EstroLibrium (Orange)
Supplement Type: Multivitamin
Helps With: Detoxification
Suitable For: Women
Powerful high-strength powder formula designed to support hormone balance and healthy oestrogen metabolism.
60mg broccoli extract standardised to 18mg Diindolylmethane (DIM).
Scientific studies have shown that DIM helps to support healthy hormone balance in both men and women.
350mg of Flaxseed Extract and 35mg of Isoflavones from Kudzu - non-soy phytoestrogens to support healthy oestrogen levels.
Flaxseed lignans have been shown to support healthy breast tissue in women and a healthy prostate in men.
Provides nutrient support for the liver in effectively metabolising hormones, these include B vitamins, glycine, curcumin and NAC.
160mg of Vitamin C and 400IU of Vitamin D to support everyday health.
EstroLibrium is also suitable for men experiencing issues relating to oestrogen dominance.
Mixes easily into a smooth, tasty orange-flavoured drink.
Warnings
Ideal for those who are looking for a natural way to manage their oestrogen levels. Suitable for any woman wishing to balance her hormones from age 18 up to and including the years around the menopause (approx age 18-55). It also suitable for women of childbearing age wishing to support menstrual health and fertility or women of 40+ wishing to support fluctuating oestrogen levels in the perimenopause.
Also suitable for men with oestrogen dominance.
Do not use if pregnant or breastfeeding. If taking any kind of medication or have a medical condition consult a healthcare practitioner before using this product. Contains vitamin K. If taking anti-coagulants, consult a medical practitioner before using this product. Contains vitamin A. Do not exceed 750μg of vitamin A (as retinol) per day if pregnant or likely to become pregnant except on the advice of a doctor or antenatal clinic.
NB: This product has not been tested for interactions with hormonal contraceptives, the effectiveness of which cannot be ensured during use of EstroLibrium.
The vitamin D3 in this product is from lanolin – a vegetarian source of vitamin D3.
This product is hypoallergenic / does not contain any of the 14 major allergens listed in Annex II (1169/2011) of the EU Food Information for Consumers Regulation.
Directions
Mix 1 scoop (5g) with 150ml water or juice and stir or shake.
Nutri Advanced supplements should not be used as a substitute for a varied diet and healthy lifestyle. Results may vary between individuals.