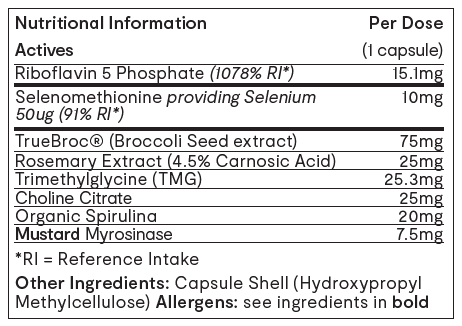 Bio.Clear Oestro
Supplement Type: Probiotic
Helps With: Detoxification
Suitable For: Women
A botanical and nutrient blend to support oestrogen metabolism, detoxification, and liver function for men and women.
A botanical and nutrient blend developed to support healthy oestrogen metabolism by encouraging the production of the enzymes involved in the oestrogen detoxification process, via stimulation of NRF2. Bio.Clear Oestro also supports a healthy oestrobolome by preventing the growth of beta-glucuronidase producing bacteria. Many of the enzymes required for biotransformation are also used in the clearance of xenoestrogens and other toxins.
This formula includes TrueBroc® broccoli seed extract with myrosinase to increase the active metabolites of glucosinolates, such as DIM and sulforaphane. It also contains rosemary, as well as nutrients to support methylation and the enzymes induced by glucosinolates.
This product is suitable for men and women.
Warnings
If pregnant, breastfeeding, taking any kind of medication, or have a medical condition, consult a healthcare practitioner before using this product.
Contains Mustard
May contain traces of Gluten
Directions

Take 1-2 capsules daily or as directed by your healthcare practitioner.
Suitable from 12 years
Do not exceed the recommended dose, unless advised by your healthcare professional.