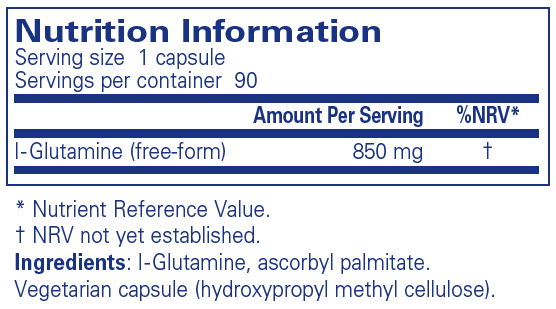 L-Glutamine
Supplement Type: Amino Acid
Helps With: Inflammation, Gut Health, Digestion, Leaky Gut
Size:
850 mg - 90 Capsules
Nutritionally supports the healthy functioning of the G.I. l tract, as well as lean muscle mass.
• Supports gastrointestinal tract health & function
• Enhances the G.I. tract's protective mucosal lining
• Helps promote and preserve lean muscle mass
Warnings
If pregnant, breastfeeding, taking any kind of medication, or have a medical condition, consult a healthcare practitioner before using this product.

Do not exceed the recommended dose, unless advised by your healthcare practitioner.
Directions
Take 1 capsule, 1–3 times daily, between meals, or as directed by a healthcare practitioner