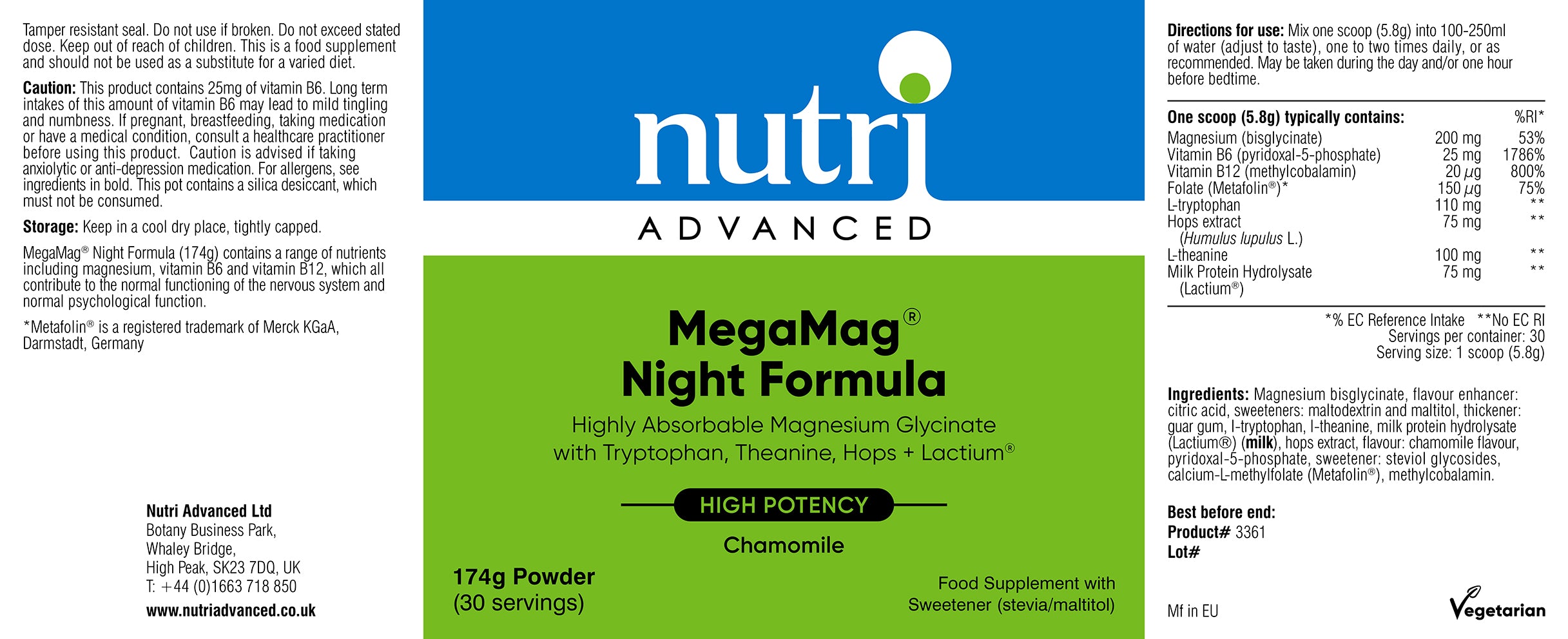 MegaMag® Night Formula Magnesium Powder
Supplement Type: Magnesium
Helps With: Sleep & Relaxation, Mood Support
Main Ingredients: Magnesium Glycinate
Fast-acting magnesium powder combined with other sleep supporting ingredients including hops to provide support for a restful night.

Ideal for those who struggle to fall asleep or suffer from poor sleep, MegaMag® Night Formula powder combines ingredients that work synergistically to support relaxation and restful sleep in therapeutic dosages.
Magnesium glycinate is a form of magnesium that does not upset sensitive stomachs.  It works to calm both mind and body by relaxing muscles and nerves. Powder format means that high levels of nutrients can be delivered in a single dose and it can be  mixed with water or juice, making it convenient to drink.
 Hops is a herb traditionally used for centuries to support restful sleep and relaxation.
L-tryptophan is a precursor of serotonin, a neurotransmitter, which is not only important for mood balance, but may also be converted to melatonin which is important for regulating the sleep-wake cycle.
Lactium®, a milk protein hydrolysate from casein, supports relaxation and a normal stress response.
L-theanine, an amino acid commonly found in tea and is associated with relaxation.
 Warnings
Contains ingredients derived from Milk.  It should be safe for lactose intolerant individuals but should be avoided by those with a true dairy allergy.If pregnant, breastfeeding, taking medication, or have a medical condition, consult a healthcare practitioner before using this product. Caution is advised if taking anxiolytic or anti-depressant medication.

If pregnant, breastfeeding, taking any kind of medication, or have a medical condition, consult a healthcare practitioner before using this product.

Do not exceed the recommended dose, unless advised by your healthcare practitioner.

Directions

Mix one scoop ( 5.8g) into 100-250 ml of water or juice,  1 or 2 times daily, or as   directed by your healthcare practitioner
May be taken during the day and/or one hour before bedtime.
Can I mix with anything other than water?
Yes, as long as the food/drink is no hotter than room temperature
Can I mix up and drink it throughout the day?
We recommend you drink it within 30 minutes of mixing
Why is there a red plastic capsule in the powder?
The red plastic capsule contains silica which is a desiccant to stop the powder from becoming moist once opened. It should not be consumed.