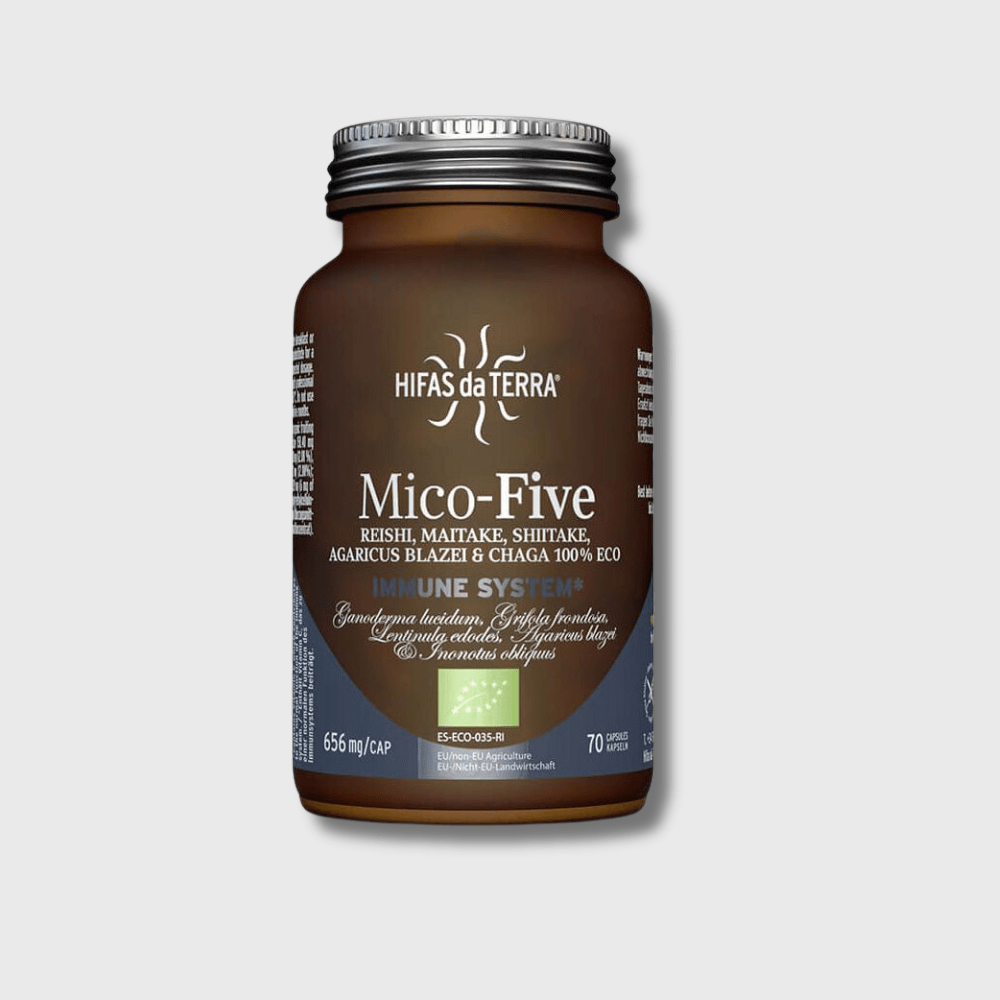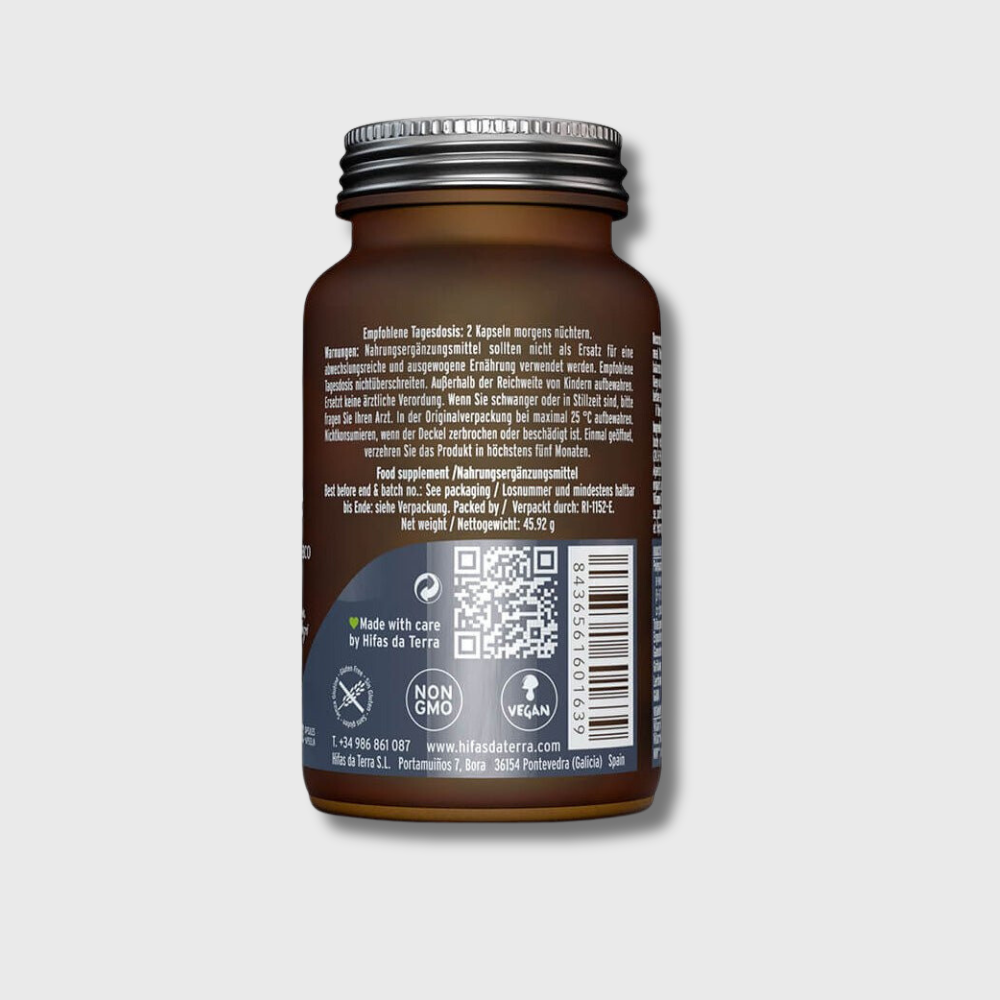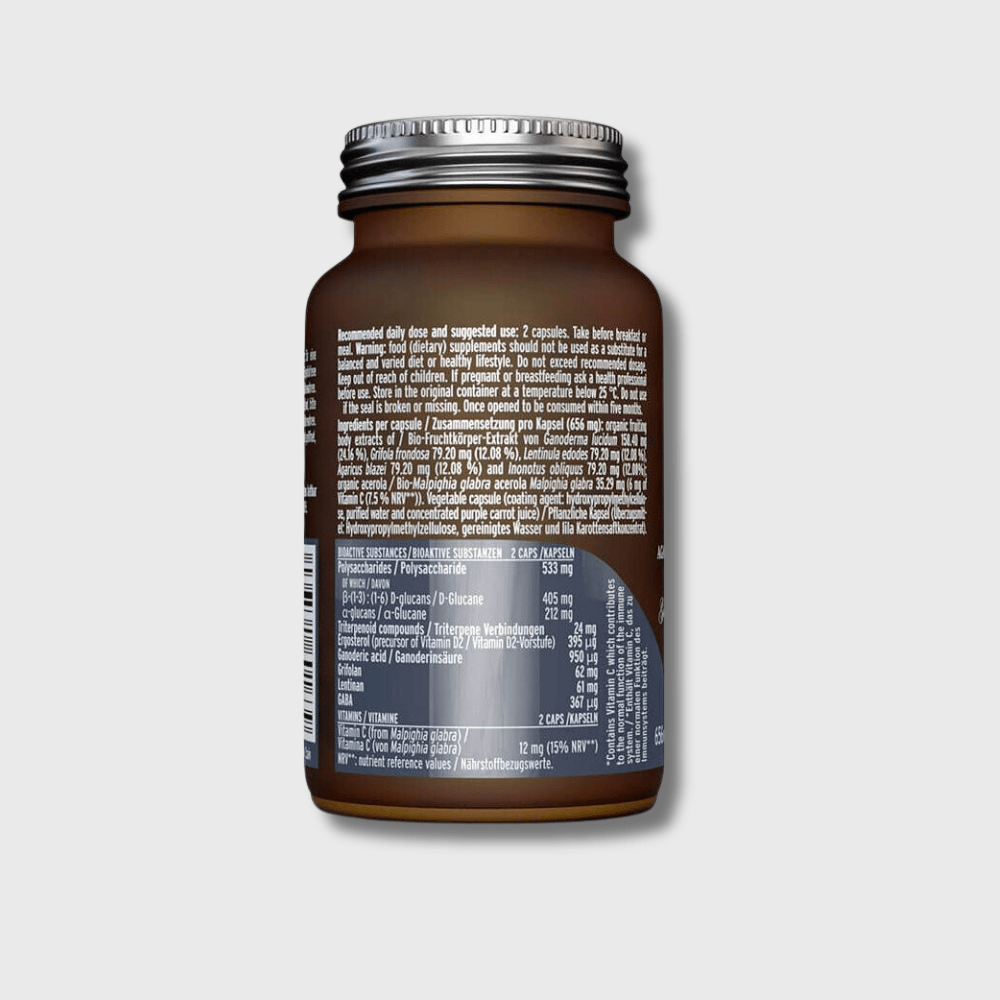 Mico-Five
Supplement Type: Mushrooms
Helps With: Immune System Support
Mico-Five is the food supplement with the highest concentration of active ingredients from Chaga, Reishi, Maitake, Shiitake and Sun Mushroom.
Hifas da Terra have chosen to incorporate Vitamin C into Mico-Five for greater efficacy.
The new Mico-Five is now more potent, both in concentration and in its range of bioactive ingredients.
The high ratio of immunomodulating compounds from Chaga, added to those of Reishi, Maitake, Shiitake and Sun Mushroom, allows greater activation of host cell receptors, thus improving the overall effectiveness of the formula.
Minimum treatment time: 60 days 
Ingredients: 70 capsules of 656 mg of pure extract. 100% vegetable capsules sealed with a natural antioxidant band.
Ingredients per capsule: Each capsule contains organic extract. 158.40 mg Ganoderma lucidum (26.05%); 79.20 mg Lentinula edodes (13.03%); 79.20 mg Grifola frondosa (13.03%); 79.20 mg Agaricus blazei (13.03%); 79.20 mg Inonotus obliquus (13.03%). Vegetable capsule.
Warnings
If pregnant, breastfeeding, taking any kind of medication, or have a medical condition, consult a healthcare practitioner before using this product.

Do not exceed the recommended dose, unless advised by your healthcare practitioner.
Do not administer in case of allergy to mushrooms.
In children under 6 years of age please use our infant preparations where the dose can be adjusted according to bodyweight.
Store in a cool and dry place. Do not use if the safety seal is damaged.
Directions
Recommended daily dose: one or two capsules – or according to practitioner recommendation – in the morning.