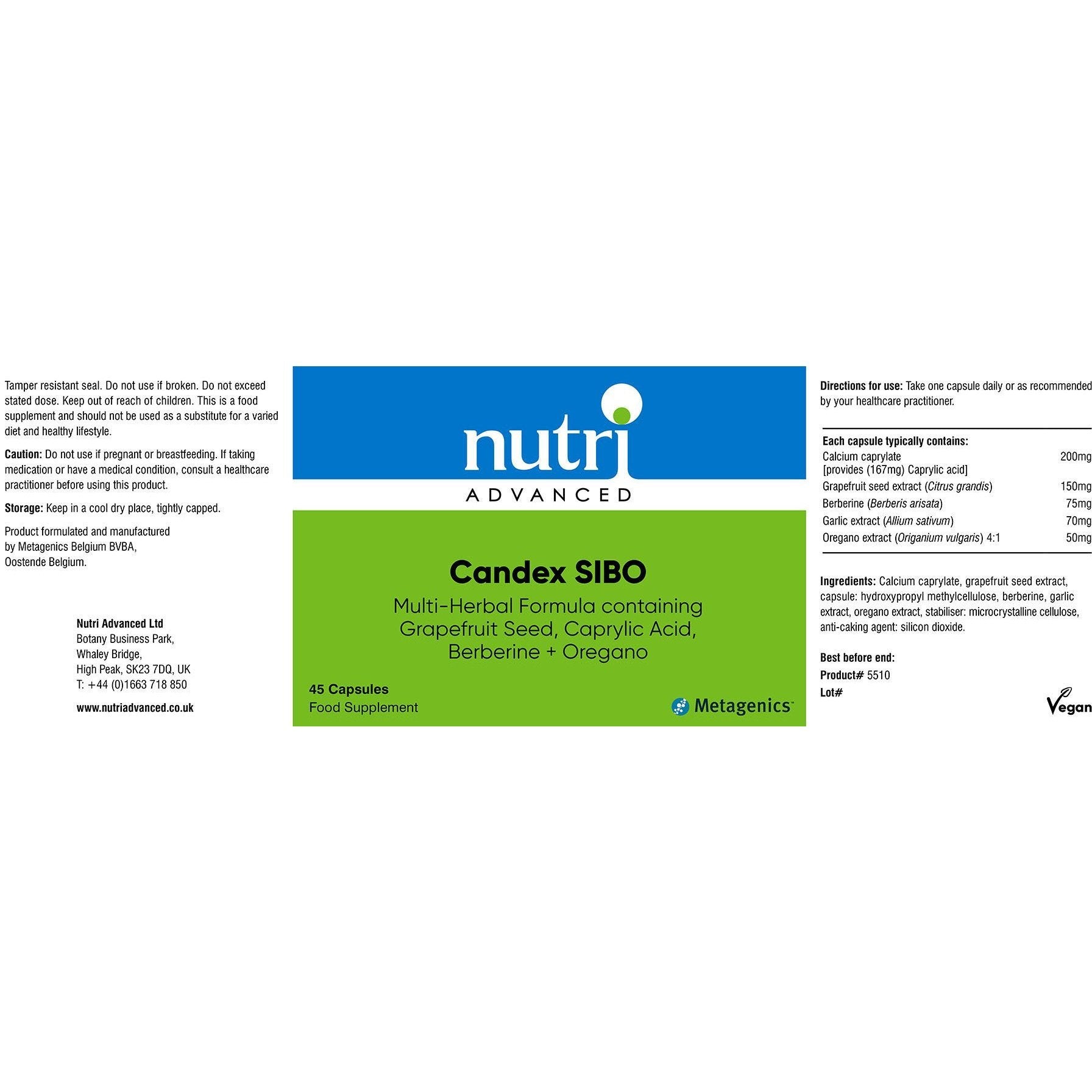 Candex SIBO
Supplement Type: Antimicrobial
Helps With: Gut Health, SIBO, Digestion
Herbal blend of grapefruit seed, caprylic acid, berberine, garlic oregano to supportmicrobial balance in the small intestine.
200mg calcium caprylate, providing 167mg caprylic acid per capsule, which has a long history of use with purging unwanted compounds from the gut
150mg grapefruit seed extract (standardised to 4:1)Citrus grandis), which contains potent compounds researched for their anti-bacterial action
75mg berberine, which is the active compound extracted from plants such as Goldenseal, Barberry, Oregon Grape, Chinese Gold Thread and Phellodendron
Berberine extracts and decoctions have demonstrated significant antimicrobial activity against a variety of organisms including bacteria, viruses, fungi, parasites and worms
Standardised garlic extract which helps to defend against harmful microorganisms such as bacteria and fungi and may also support the immune system
50mg oregano extract which has been used historically to support gut health and microbial balance
Warnings
Suitable for adults and children from the age of 12 years.
Suitable for vegetarians and vegans.
Do not use if pregnant or breastfeeding. If taking medication or have a medical condition, consult a healthcare practitioner before using this product.
This product is hypoallergenic / does not contain any of the14 major allergenslisted in Annex II (1169/2011) of the EU Food Information for Consumers Regulation.
Nutri Advanced supplements should not be used as a substitute for a varied diet and healthy lifestyle. Results may vary between individuals.
Directions

Take 1 capsule daily, or as directed by your healthcare practitioner.Suitable for vegetarians and vegans.