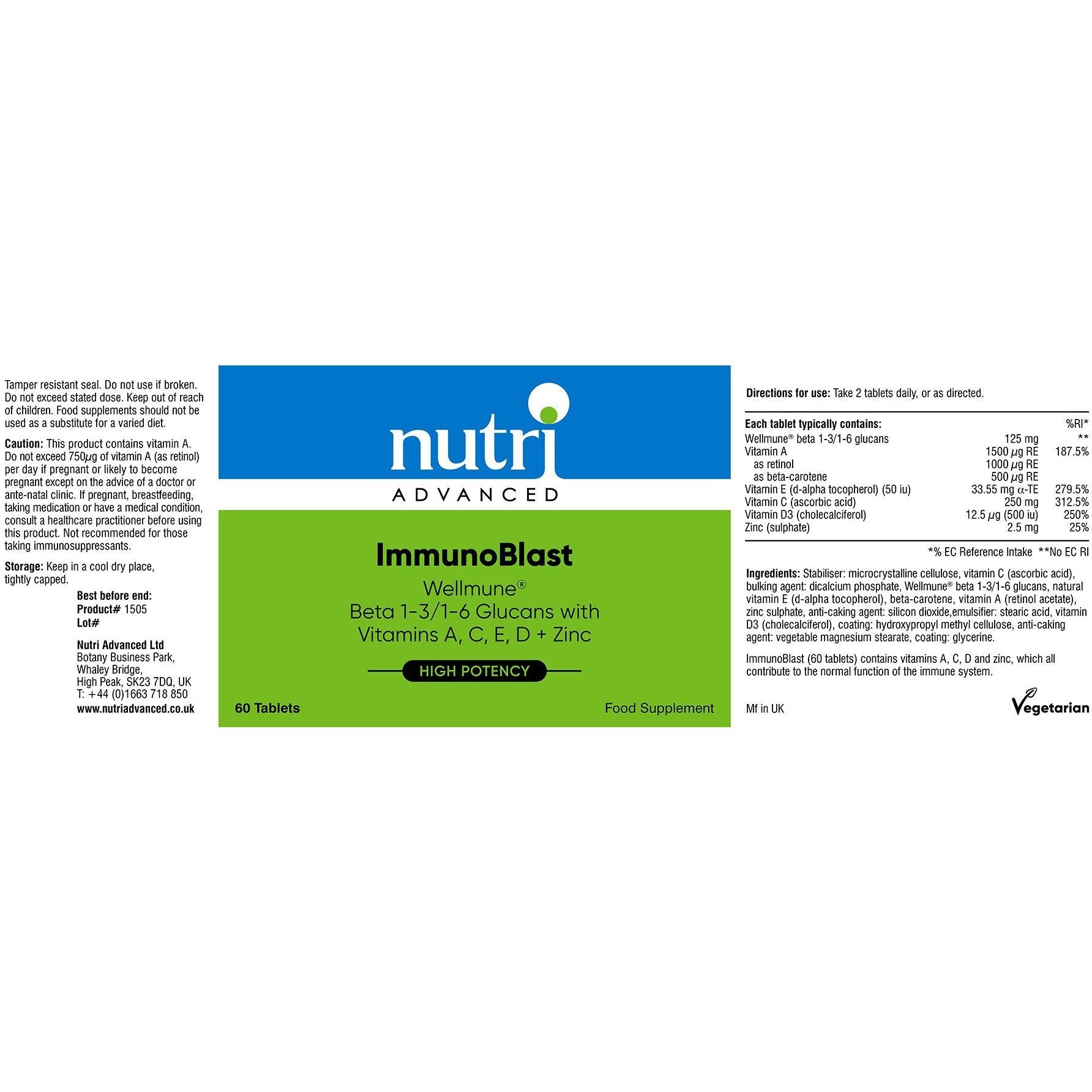 ImmunoBlast
Supplement Type: Multivitamin
Helps With: Immune System Support
A powerful combination of high-strength ingredients that synergistically work to support natural immune defences.
Contains Wellmune® Beta 1-3/1-6 Glucans - shown to be highly effective at optimising immune function.
1000iu vitamin D3 (the body's preferred form of Vitamin D) per daily dose to support the immune system.
500mg of vitamin C per daily dose to support normal functioning of the immune system and contribute to the reduction of tiredness and fatigue.
5mg of zinc to support the immune system and normal cognitive function.
3000mcg of Vitamin A per daily dose, as retinol and beta-carotene, which supports the immune system and contributes to the maintenance of normal mucous membranes, an integral part of the innate immune system.
Vitamins C and E, and zinc, all contribute to the protection of cells from oxidative stress caused by free radical damage. Free radicals cause damage to your body and can add stress on the immune system.
Warnings

ImmunoBlast can safely be taken from 12 years and is an ideal support for those prone to seasonal infections or those who require year round support.
This product contains vitamin A. Do not exceed 750µg of vitamin A (as retinol) per day if pregnant or likely to become pregnant except on the advice of a doctor or antenatal clinic.
The vitamin D3 in this product is from lanolin – a vegetarian source of vitamin D3.
If pregnant, breastfeeding, taking any kind of medication, or have a medical condition, consult a healthcare practitioner before using this product.
Do not exceed the recommended dose, unless advised by your healthcare practitioner.
Not recommended in those taking immunosuppressants.
This product is hypoallergenic / does not contain any of the 14 major allergens
listed in Annex II (1169/2011) of the EU Food Information for Consumers Regulation.
Directions
Take 1 tablet twice daily, or as directed by your healthcare practitioner